Dr. John Michael Orr and Dr. Patrick Garcia started Ultimate Sports Performance and Rehabilitation in May of 2013 with the goal of providing a better experience for athletes and everyday individuals. Dr. Orr and Dr. Garcia came together to improve treatment and collaborate both professions so that we could give patients an opportunity to improve their overall health in one location.
With a combined 30+ years of clinical experience, we have been dedicated to helping our community, stay healthy, and active. Ultimate Sports offers Chiropractic, Physical Therapy, massage therapy, strength training, nutritional counseling, hyperbaric oxygen therapy, EMS Therapy, compression therapy, and more to help our patients and clients restore health in all aspects and improve quality of life.
Our Philosophy
What we do. Why we do it.
At Ultimate Sports Performance and Rehabilitation, we are dedicated to the treatment and prevention of joint and soft tissue injuries. We use specific treatment methods to help patients get better as quick as possible. When patients are out of pain they are released from care and given a home rehabilitation program to help them stay healthy and prevent future injuries.
Strength Training and Speed/Agility Training
Chiropractic & Physical Therapy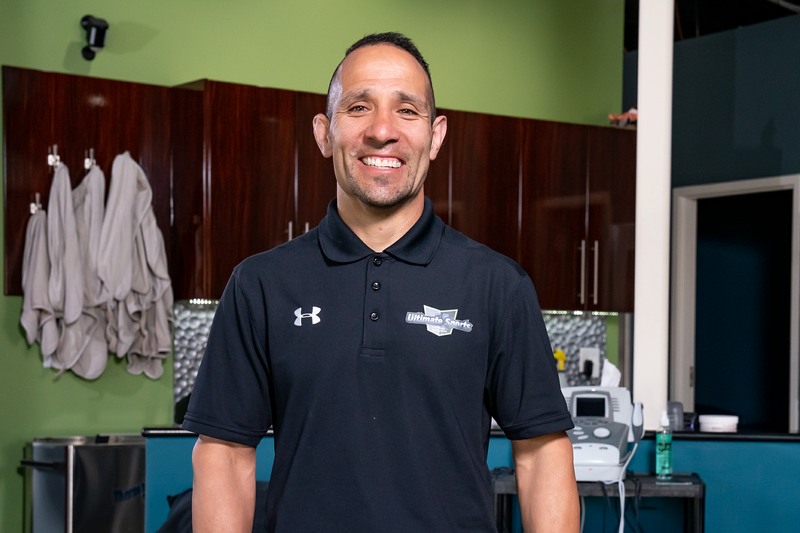 Dr. Pat Garcia
Chiropractor / Owner
Dr. Garcia Graduated from Palmer College of Chiropractic February 27, 2009. He specializes in orthopedic and sports injuries. Dr. Garcia was an athlete himself and wrestled for the University of Northern Iowa. As a former athlete he has a true interest in helping patient's recover from injuries so they can get back to sports or hobbies they enjoy.
Ultimate Sports Performance & Rehabilitation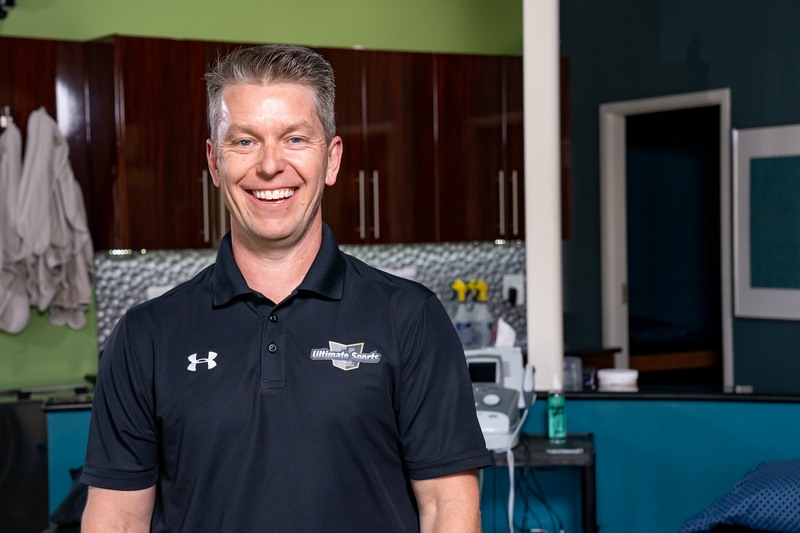 Dr. John Michael Orr (Mike)
Physical Therapist / Owner
Mike graduated from the Richard Stockton College of NJ in 1997 with a BS in Physical Therapy and completed his Doctorate in Physical Therapy from the University of Utah in 2009. He is board certified with the APTA as an Orthopedic Clinical Specialist. He specializes in the treatment and training of athletes, pre and post surgical conditions of the spine and extremities, headaches, traumatic , motor vehicle and sports injuries. He has over 20 years experience treating clients of all ages and abilities. Mike strongly believes in using a hands on manual based approach and personally spending quality one-on-one time with each and every client.
Ultimate Sports Performance & Rehabilitation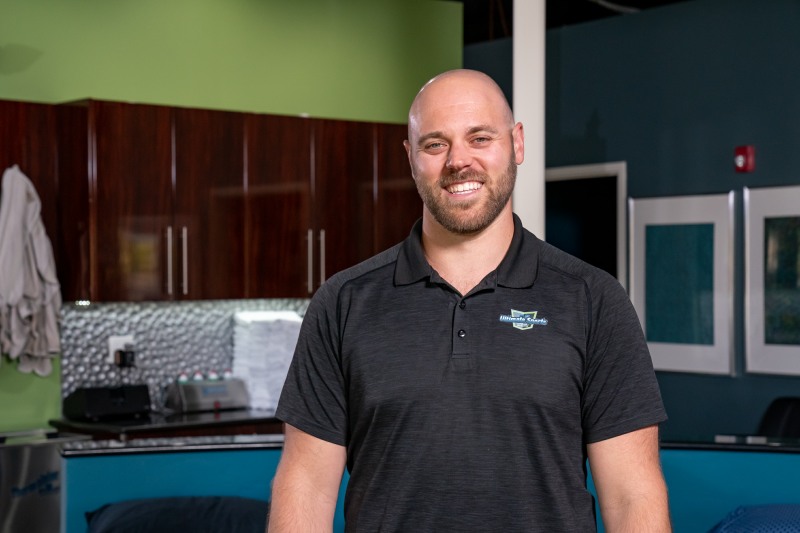 Dr. Dusty Campbell
Physical Therapist
Dusty joined the Ultimate crew in 2019 after receiving his Doctorate Degree of Physical Therapy from the University of Utah. He moved to Utah in 2016 after receiving his bachelor's degree in Exercise Physiology from West Virginia University (WVU). While in West Virginia he coached strength and conditioning for 6 years with high school and college level athletes. Dusty played hockey for WVU following 2 years of juniors in Canada. Since moving to Utah, he has become hooked on rock climbing, snowboarding, hiking, and beach volleyball with his fiancé and pup. Dusty believes that it is his mission to bridge the gap between recovery and full tilt performance as efficiently as possible while educating his patients to prevent future injury. "The best rehab is great prehab.
Ultimate Sports Performance & Rehabilitation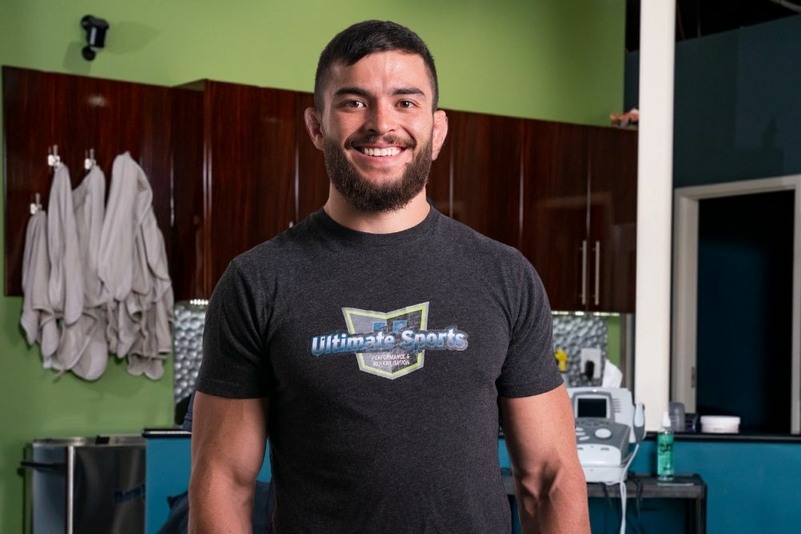 Mitch Ramirez
Strength & Conditioning Coach / Nutritionist
Mitch is a NASM Performance Enhancement Specialist Certified Personal Trainer. He uses structured, science based programming, as well as his life experience, to address both the physical and mental side of training and performance. He works with many different types of individuals but specializes in developing athletes and rehabilitating injury patients. He prides himself on innovation and understanding the fine details that are often overlooked.
Ultimate Sports Performance & Rehabilitation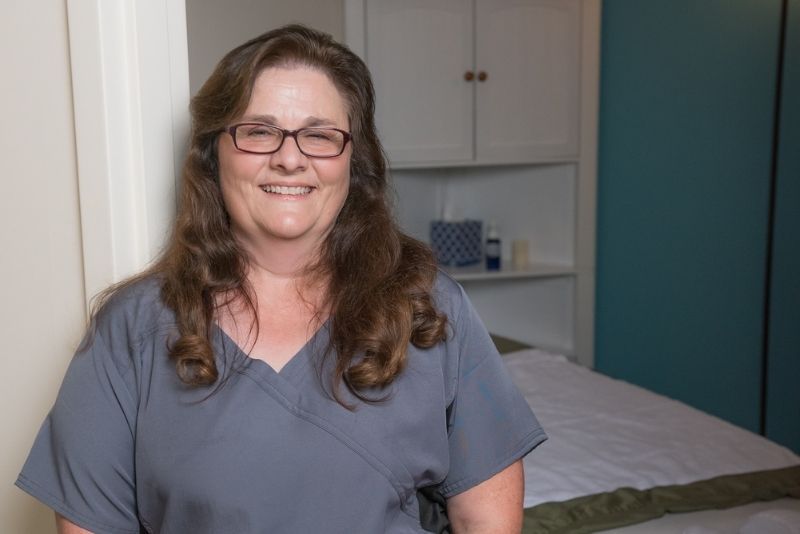 Connie
Massage Therapist
Ultimate Sports Performance & Rehabilitation

I have been seeing Dr. Garcia for a few years and he is always amazing. He listens to where I am hurting and does gentle, yet affective adjustments to get me where I should be. They also teach exercises to do at home to help improve.

I swear by Pat and his team. I would not be living the life I am without them. Unlike many other PT and Chiro places, Pat does not try and make you reliant on his adjustments. Pat takes a complete approach to rehab and enables his patients to live a life free of pain by following his exercise routines and at-home rehab.

Just want to take a moment to give Dusty, Mike and all the staff at Ultimate Sports Performance a shout out. I came in and explained what I needed and Mike put me with Dusty who gave me what I needed. Extremely knowledgeable, effective and a pleasure to work with. Dusty helped me understand how to correct my imbalances and ultimately improve my performance and overall physical health. Highly recommend.

This is the 2nd surgery I've had that they have helped me out with. Jason my physical therapist has done a perfect job with both of my shoulders. Though his taste in music isn't very good.  Also, Pat did my chiropractor work for a season really help me with my lower back I appreciate him these guys have awesome customer service and our down-to-earth great people this is where I will go as long as they're open

Pat is awesome! I have only gone there one time so far, with a really bad lower back injury from the gym, that I got over 3 months ago, and I already feel 100x better! I plan on going a lot more! Definitely recommend